BGC 10 Reunion Spoilers
Rocky & Shannon vs Valentina
Shannon vs Nancy (3rd replacement)
Nikki vs Jenn
Shannon fights 3 times at the reunion. The 3rd fight is either:
A: She fights Valentina in a 2nd round.
B: She fights Jenn.
Personally I think it's B.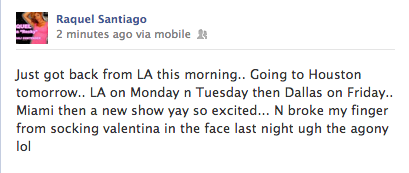 Below are pics of Valentina after the reunion.

She has a black eye if you can't tell, she did pretty good with her makeup

If anything is wrong here, I'll edit the post.. but I'm pretty sure this is all right.